Teams have real issues. We deliver real results.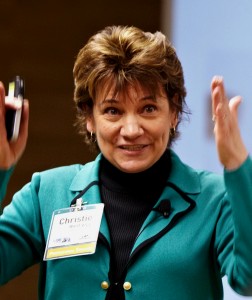 Communication. Leadership. Teambuilding. These so-called "soft skills" are vital for every team, in every organization. Through interactive, highly customized workshops, trainings, coaching, and keynotes, Christie Ward, CSP and The Impact Institute teach the skills and tools that leaders and teams need to be effective with each other, their managers, their subordinates, and their customers, whether they work in corporations, government entities, or non-profit organizations.
The focus is on learning and building skills – with real-world examples, practical tactics, and interactivity – to meet this outcome: You walk away having learned something. Real behavior change takes place. Individuals are different. Teams are stronger. And significant results are realized, as groups fuse into high-performance teams that tackle strategic business goals.
For leaders at all levels, Christie Ward teaches skills to communicate with crystal-clear clarity. For supervisors and managers, Christie takes the mystery out of managing people by teaching effective, "front line" communication and teambuilding skills. For individual contributors, Christie Ward's "how-to-fix" workshops teach how to effectively communicate with your colleagues and managers, stressing why each person must take responsibility in building a great team and a great workplace.
BIOGRAPHY: Christie Ward, CSP
Leadership Facilitator and Principal of The Impact Institute™
Christie Ward, CSP is a nationally acclaimed leadership and communication expert known for high-content, high-energy workshops and keynotes that get results. A fearless facilitator who tackles the tough subjects, Christie's workshops are highly customized to meet organizations' specific needs and are interwoven with real-world stories and actionable tactics. Since 1999, when she founded The Impact Institute, Christie has focused on communication, leadership, and teambuilding topics that result in more productive teams and effective leadership. Highlights include lowering union grievances at an AT&T division by 66%. In addition, she personally coached the World Champion of Public Speaking for the year 2000. Previously, as Director of Training for CareerTrack, Inc., Christie coached and managed 200 of the best professional trainers around the world.
A leader on and off the platform: Examples of Christie Ward's accomplishments in life, in business, and as a committed volunteer
Lowered union grievances 66% with a companywide training intervention at AT&T in Denver

Turned around numerous mission-critical teams in federal and local government

As a Client Development Manager, took a sales team to the top, quarter after quarter

Directed a worldwide, internationally acclaimed trainer corps of over 200

Voted by her peers to be Chair of the prestigious National Advisors to Chapters for ASTD and serves on the National Board for ASTD

Awarded NSA/Colorado Member of the Year in 2008, 2009, and 2011

Personally coached the World Champion of Public Speaking in 2000

Shepherded her daughter through a successful bone-marrow transplant

Active supporter and volunteer at the Tennyson Center for Abused Children in Denver, where she judges a speech contest for the children every year

Active volunteer with Goodwill Industries, where she conducts mock-scholarship interviews with inner-city high school students to get them ready for the real deal

Taught in inner-city schools and colleges in 3 states

Lost 90 pounds and kept it off since 1985
---
Professional memberships, education, and certifications
Earned her Certified Speaking Professional (CSP) designation in 2009 (held by fewer than 10% of the professional speakers in the International Speakers Federation)

Association for Talent Development (ATD): Current and past positions include Program Advisory Committee for the International Convention and Expo, Chair 2016

National Speakers Association (NSA), Colorado Chapter: Current and past positions include President, Past President, Director and Founder of the Colorado Speakers Academy

Awarded the ASTD-Rocky Mountain Chapter Best Practices award for a program that lowered union grievances at AT&T in Denver by 66%

Academic year abroad at the Universidad de Valencia, Spain

Undergraduate degree from University of Southern California

Graduate studies at Portland State University in Adult Education

Certified in Zenger-Miller, Achieve Global

Certified in Situational Leadership

Certified in Global Integration Matrix Management

Certified in Everything DiSC Behavioral Profiling

Certified in the Five Behaviors of a Cohesive Team

Certified in People In Flow

Certification pending for Neurolink
Schedule a workshop, training, or keynote for your group.
Forge a stronger team. Contact us now.