Teams have tough issues.
That's why they call Christie Ward.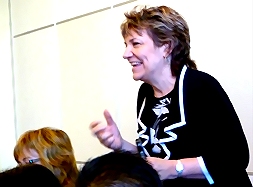 Case Study #1: Communication Skill-Building and Teambuilding
Ongoing communication issues and conflict impact productivity – Christie Ward's workshops decrease grievances by 66%
CHALLENGE: Throughout AT&T's Network Engineering & Operations division, communication issues had devolved into ongoing conflict. The division was in the midst of re-engineering and downsizing; stress soared and tempers flared. Instead of resolving their differences, employees filed complaints. As the conflict soared, productivity dropped. Plus, HR managers and union stewards were overwhelmed with numerous time-wasting complaints.
SOLUTION: A "deep" project, Christie facilitated a series of 4 Skill Builders classes for all 500 employees over the course of a year. Everyone attended, including the top leadership, managers and supervisors, and individual contributors (both union and non-union).
In her trainings and one-on-one coaching sessions, Christie taught effective communication skills, conflict management, individual style dimensions, expectations, team dimensions, resiliency, and change management.
In addition, Christie led frank and open discussions on individual responsibility and the importance of dealing with internal issues in a reasonable way – instead of filing complaints. In these highly interactive workshops, participants learned (and practiced) communication tools that empowered them to resolve issues on the spot. This training enables employees to stay focused on the project at hand, which is critical in a technical environment.
RESULT: The statistics speak for themselves. Based on a company survey at the conclusion of the trainings, Christie's facilitated training solution resulted in:
66% fewer union/labor grievances
50% reduction in work group conflicts
An overall increase in effective communication, individual accountability, and improved morale (Read full testimonial letter).
---
Case Study #2: Team Intervention and Conflict Management
Scathing anonymous letter prompts in-depth team intervention
CHALLENGE: two employees in a municipality sent an anonymous letter of complaint to the mayor. Described as scathing and cowardly, the letter complained about the management style and accused the department head of improprieties.
The department leader, a seasoned professional with a longstanding reputation, was at a loss and asserted that the accusations were untrue. Meanwhile the mayor and city council were reluctant to turn over the matter to legal proceedings. They decided the first step should be intervention.
SOLUTION: The City Manager hired Christie Ward, CSP to facilitate the team intervention and conflict management. Christie was charged with clarifying the issues, identifying the letter-writers, and proving any innocence or guilt. In short, she needed to get a handle on the truth. After identifying the core issues – real and perceived – Christie would need to resolve the issues, fuse the group together as a team, and re-establish the bond of trust that is so vital in any team.
To this end, Christie interviewed each team member individually and provided one-on-one communication coaching. She facilitated multiple conflict management and communication classes, including night classes to accommodate schedules. In addition, she mediated several private meetings with the department head and the two employees who confessed to writing the anonymous letter.
Over the course of a year, Christie worked deeply with the department as a whole and with individual employees as well as with the community, mayor, and city council members. On 2 occasions she spoke to city council on behalf of the department head.
RESULT: All employees were able to talk openly about this and other issues. The team is stronger and has remained intact – no one lost their job. The department leader's reputation was affirmed. Led by Christie, the team created a communication contract. And all employees came away with improved communication skills and more transparency with each other, helping to ensure such a destructive situation doesn't occur again.
Thanks to her fearless, consultative approach, Christie Ward is able to tackle a variety of tough subjects in a variety of organizations, including command structures where teams often don't open up and speak freely. Yet effective, open, and honest communication is a critical skill for every individual – and every team – to thrive.
---
Case Study #3: Presentation Skills that Inform and Persuade
Workshop participant revamps long, boring, data-heavy presentation – and receives standing ovation!
CHALLENGE: A government employee – we'll call her Mary – was responsible for regularly presenting an in-depth training program to large, public groups. Mary's presentations were packed with highly technical data, along with step-by-step training based on an instruction manual. It was imperative that her audience stay engaged.
But this 4-hour presentation was a snoozer! Although it shared critical information, this presentation had a reputation for being dry, boring, and ineffective.
SOLUTION: Mary attended one of Christie Ward's 2-day Presentation Skills classes, organized by the division's leader. In this interactive and intensive workshop, Mary learned how to:
Make her content engaging
Use real-world examples and stories to bring the content to life
Add creative, engaging visuals including video
Capitalize on her strengths and personal style to connect with her audience
Hone her delivery, so she radiates competence and confidence!
In addition, Mary gained insight into what motivates audience members to be engaged and how to teach to that. ("If you want to inform, you have to engage," says Christie.) During the workshop, Mary received individual presentation coaching from Christie, including a video-taped session.
RESULT: That same week, Mary gave her revised presentation to a fairly large audience. Her presentation sparkled with her personal style and authentic flair. She received a standing ovation!
The division leader was impressed. In his 35-year government career, he had never before witnessed a standing ovation. He scheduled more Presentation Skills workshops with Christie Ward, which promptly filled up – with waiting lists.
Schedule a workshop, training, or keynote for your group.
Forge a stronger team. Contact us now.