Christie Ward's customized training, coaching, and keynotes get results. Read on …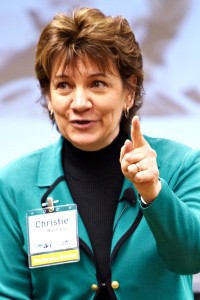 "Christie developed and delivered a number of classes addressing effective communication skills, conflict management, individual style dimensions, expectations, team dimensions, resiliency, and change management. Christie came into the environment during re-engineering, downsizing, and change management. Some of the changes the organization has seen as a result of Christie's training are 66% fewer union/labor grievances, 50% reduction in work group conflicts, and an overall increase in effective communication, individual accountability and improved morale."
– Suzanne Becker, District Manager
AT&T
Read full testimonial letter >
"One of my mission-critical teams was experiencing ongoing issues affecting morale and performance. I asked Christie to provide training to resolve the issues and improve performance. What began as a team training quickly evolved into Christie identifying and assessing dysfunctional behaviors within the team. Christie facilitated pointed discussions and performed a deep analysis of team and personnel issues. By working with each individual, and then the team as a whole, Christie developed a social contract for members of the team. This social contract will encourage positive behavior and promote trust and mutual respect. If you have a team that needs help, call Christie – she can make a difference."
– Mel Stockwell, Division Chief, Client Liaison and Product Development
U.S. Department of the Interior, National Business Center
"Christie has facilitated leadership and performance management training for IHS for several years. She is an excellent facilitator, and immediately engaged our leaders and colleagues with her lively style and real-life stories to make the topic relevant. She has a talent for answering tough questions … and is able to 'flex' to suit the audience."
– Beth Dickinson, former Senior Director, Global Training
IHS
Read full testimonial letter >
"Thank you very much for your contributions to BLM's Leadership Academy. Your sessions on Motivating for Performance, Managing Work Expectations and Transforming Attitudes, and Learning to Listen to Understand were very well received by the participants. I am glad I had the opportunity to work with you and wish you continued success as you help others improve their leadership skills."
– Jean Sammon, former Training Coordinator
BLM's Leadership Academy
"Christie Ward's class was, in a word, fantastic! She engaged the entire group in an interactive exercise that helped them break down barriers. While the class was ostensibly designed to cultivate effective speaking skills, it turned out to be a fabulous teambuilding exercise. Engineers often tend to be shy and introverted and feign public speaking. But Christie's innovative approach to teaching and engaging the audience set them at ease. It was a wonderful learning opportunity for us all."
– Helen Migchelbrink, City Engineer
City of Fort Collins, Colorado
Read full testimonial letter >
"As we like to say in the military, 'bottom line up front,' Christie is awesome and extraordinary. Christie is an exceptional teacher. I can safely say without any hesitation that Christie is the best trainer I have had the pleasure of working with. I have witnessed her facilitate audiences (sometimes hostile) through difficult subjects. She moved participants through the training and assisted them in gaining greater understanding of the topics and issues."
– Tony L. Wyatt, CMSgt (now retired)
USAF, Headquarters Air Mobility Command
Read full testimonial letter >
"Our members enjoyed your presentation – your rankings are among the highest we have seen. You did a great job of connecting with your audience. One of our members summed it up well by saying, 'Christie was engaging, inspirational, and real.' We highly recommend you to any group with attendees desiring to be remembered by their clients though learning to tell their story. Thanks again for helping each of us to improve our own story!"
– Christine Des Enfants, Executive Director
Cherry Creek Chamber of Commerce
"Thank you for the work you did with our department retreat and follow-up strategic planning session. The framework, real-life exercises, and organization of the retreat were very beneficial. We now have a common experience of teambuilding and use it as a point of reference. The strategic planning meetings you facilitated have produced some of the best work this group has done in years. We are clear and focused about the steps to take to be a better organization and continue to deliver high levels of customer service. I very much appreciate the work you did preparing for both the retreat and strategic planning sessions. And the written plan document is excellent. I look forward to working with you for years to come."
– Stephen Kanipe, Chief Building Official
City of Aspen, Colorado
"Everything Christie Ward touched went UP: trainer ratings, back-of-the-room sales, and esprit de corps with our trainers! She can work with anyone, and she gets the job done every time. Christie is a gem!"
– Jeff Salzman, Co-founder
CareerTrack
"Smiles around the office, an openness to share ideas, an energized spirit toward work – that's what happened to my office after we spent the morning with Christie Ward. Her training is exceptional. After 25 years in the professional world, I will heartily say she is one of the best presenters I've encountered."
– Lisa Dawson, former Finance Director
Garfield County, Colorado
Read full testimonial letter >
"A common struggle in education is working with teachers who are resistant to change. Christie Ward's passion brought out the best in our team so that we could envision new frontiers and dialog about how to achieve them."
– Rachel Carrillo Syrja
El Monte School District, California
Read full testimonial letter >
"Our team needed to rally to prepare for our organization's annual conference with over 400 attendees. With many core changes happening at the same time, we hired Christie Ward to help us prepare to speak in front of our franchisees at the meeting. Wow! What a great investment! Christie led us through some amazing processes in just three short hours. We learned to develop better presentation skills, handle conflict among franchisees and our team, and build our personal confidence to be more effective in the workplace. Christie's energy filled the room, and every participant gained from the experience. My team has thanked me over and over again for making this experience possible for them. Thanks to Christie for helping us all connect and focus on taking our conference to the next level. My expectations for tangible results were not only met, but substantially exceeded."
– Heidi Ganahl, CEO and Founder
Bow Wow Doggie Daycare
"I'm in awe of how a great speaker can keep an audience thoroughly mesmerized, and Christie Ward is one of the best. Not only does she keep audiences glued to her performance, but she also teaches them every micro-detail of language, voice inflection, hand gesture, and facial expression to make each salient point move one notch higher on the audience-impact Richter scale. She was a big hit with our group. I've met dozens of great people who teach the fine art of presentation skills, but she is clearly in a league of her own."
– Thomas Frey, PhD, Executive Director
DaVinci Institute
"Thank you so much for speaking at our conference! Our sales team is still raving!"
– Rebecca Magnotta, General Manager
DISH Network
"I am feeling very successful because of you! Your presentation has received more positive feedback from our staff than any presenter in three years. You're a hit! I knew you would be received well, but WOW! Your straight talk and commonality with the whole audience made them feel special and inspired. Thank you for bringing your message and lessons to us."
– John Keith
Community Partnership for Child Development
"I came out of Christie's course working on myself more. I don't give up so easily now. I feel I can reach my goals one small step at a time. I could not even begin to put a price on that."
– JR
"I have worked with dozens of companies both as an employee and a consultant. Christie, you are unparalleled in your integrity, devotion, support, and desire to make your environment better."
– Susan Langlitz, PhD, Professional speaker and consultant
"Christie not only delivered an interactive, on-target training for our managers, she was also very easy to work with. Christie took the initiative to learn about our unique culture, and she collaborated with us to customize a program that truly met our needs. The participants walked away with tools and techniques they could use right away, and they enjoyed the learning process. When you are in fast-paced production environment like ours, learning must be impactful. And if it is enjoyable, participants want to come back for more. Our employees want more from Christie!"
– LB, University manager
"Christie has accomplished what I thought was not possible. She got us to communicate and work together to show a more united front to our membership, which was our biggest goal."
– EA, Union board, Multi-national telecom company
"Christie Ward observed a new program we were launching for our newspaper staff. The initial launch had fallen flat, and we revived it after her outstanding presentation coaching and recommendations. Our employees consistently rated her training among the highest. She understands how adults learn and how to make learning fun."
– ET, Training executive, Metropolitan newspaper
"While most of the participants immediately embraced your ideas and suggestions, it is even more significant to note that the 'reluctant' participants came around in the end. After these reluctant participants saw how the senior executives responded to the speakers who used the techniques you suggested, they quickly saw the power of telling stories and emotionally connecting with the audience. Clearly, they experienced deep learning rather than superficial interest in techniques. It is no easy task to engage left-brained, highly skilled engineers in storytelling and emotional connection. You did it!"
– CF, PhD, Principal of the leadership program for a Fortune 500 technology company
"When it comes to speaking and presentation skills, Christie has the unique ability to help you develop your strengths, diagnose weaknesses, and offer clear, concise, and specific directions for improvement. There isn't a speaker or trainer out there that Christie Ward can't make better!"
– Harry Chambers, Author of The Bad Attitude Survival Guide and Essential Tools for Managers
"I have worked with many speech coaches, and Christie is the best. I always see a massive return on the investment of time and money I spend with her."
– Steve Moroski, Professional speaker and author of Stay Hungry
"Thank you for your help with my speech! It went SO well! I spoke directly from my heart and even had the crowd laughing hysterically. I can't thank you enough. Who knows, maybe someday I can motivate others."
– BJ, Award recipient
"I used your presentation coaching today, and it went really well! The lead trainer commended me on what a good job I did and said it was the best I've done. Your help made the difference."
– AL, City employee
"Christie Ward is one of the most effective communication coaches I've ever encountered. Her focus on the real diversity by which people perceive their worlds adds a refreshing and powerful dimension to the art of communication. She is a consummate professional."
– JJ, International travel agency
"I respect and appreciate the leader you are. I have seen many try to lead over the years but you are, by far, the best of the best."
– Susan George, Professional speaker and consultant
"This was an excellent use of company resources to improve the company exponentially. Christie Ward was excellent as an instructor, coach, and motivator. She allowed the class to expand beyond the confines of the curriculum, while still being able to relate and bring the class in line. Thanks!"
"I received in 6 hours more information about myself, my co-workers, and my customers than I have in the many years of personal searching, reading books, and therapy. It was truly an incredible experience!"
"This training was right on target! The instructor was outstanding!"
– LD, manager
"Today our board had the good fortune of having Christie Ward present a workshop on public speaking. We found Christie to be a fabulous presenter and a lovely woman with a lot of experience under her belt. She held our attention and left us with many wonderful ideas, suggestions, and tangible goals. The women in the room were so appreciative that we had hired such a qualified facilitator. We left today with a very strong foundation and have asked Christie to come back to continue the learning process. Anyone who hires Christie is in for a real treat."
– AT, President
AJWF of Colorado
"Christie's coaching has helped me take my keynote presentations to a new level of being able to connect with my audience. The evaluations from my most recent presentation were the best I've ever received, thanks to the creative ideas I got from Christie's coaching. Christie has the unique ability to look at a presentation and give you exactly the feedback you need to help you make the leap from 'good' to 'great'! Her suggestions were right on target and aligned with who I am as a presenter."
– Phyllis Lundy
Lundy Professional Development Resources, Inc.
"Christie's training has always received very high evaluations from our participants. I have even received special requests to bring her in as an instructor. Students often comment on the depth of her knowledge as well as her skills as an instructor. Christie will present several courses again this year, and I am confident she will present high-quality training to my customers."
– Debra J. Carr, Manager
DOI University
"Christie was an ideal facilitator. She is intelligent, capable, and able to adapt to dynamic group situations. She was always quick on her feet, and provided helpful and well-reasoned advice. Christie has exceptional interpersonal skills and is capable of handling any situation with sensitivity and thoughtfulness."
– Frank Turina, Acting Program Manager, Natural Sounds Program
National Parks Service
"I couldn't express enough my gratitude for your outstanding presentation of Behaviorally Based Interviewing. Your presentation really set the tone for the future of interviewing here. Your ability to quickly capture the attention of the participants – who listened attentively to your key points – was outstanding. Your presentation was an excellent start to shifting the mindset of our managers toward service excellence."
– Douglas J. Bourgeois, Director
National Business Center
Schedule a workshop, training, or keynote for your group.
Forge a stronger team. Contact us now.